I grew up in a small southern town that had very little to offer most of it's citizens.We were taught by our parents, grandparents, teachers, church, and those who cared about us in the community.My grandfather always told me to use my head for something other than a hat rack and two heads are better than one even if one was a goat's head. I always knew I had to lead, follow or get out of the way of progress. I also knew the importance of the application of common sense.
         As a child, I enjoyed disassembling clocks, bicycles and toys to see what made them work. Some toys I modified to exceed the intended performance. I would hypnotize some of my grandfather's chickens and people would come from far and near to see chickens under my spell. I stuttered very badly until becoming extremely interested in girls. I had to stop that foolishness.
          Finishing high school at the age of seventeen, I worked as a laborer until being drafted into the Army and serving nine months in combat in Korea receiving the Good Conduct Medal, National Defense Service Medal, Korean Service Medal with one Bronze Star, United Nations Service Medal, Republic of Korea Korean War Service Medal, Republic of Korea Presidential Unit Citation Badge and Expert Rifleman Badge.
         After separation from the Army I took advantage of the G. I. Bill and enrolled at Tuskegee Institute where, Delores and I were introduced by a mutual friend. After showing interest in her, she asked to see my grades. I asked why? She said, "I don't date dumb guys" and offered to help me if I needed help in the nontechnical subjects. She saw my grades and our relationship started. I graduated in three years on the Dean's List. We were married June 2, 1957 in Birmingham Alabama.- Ben Oliver Kerr 87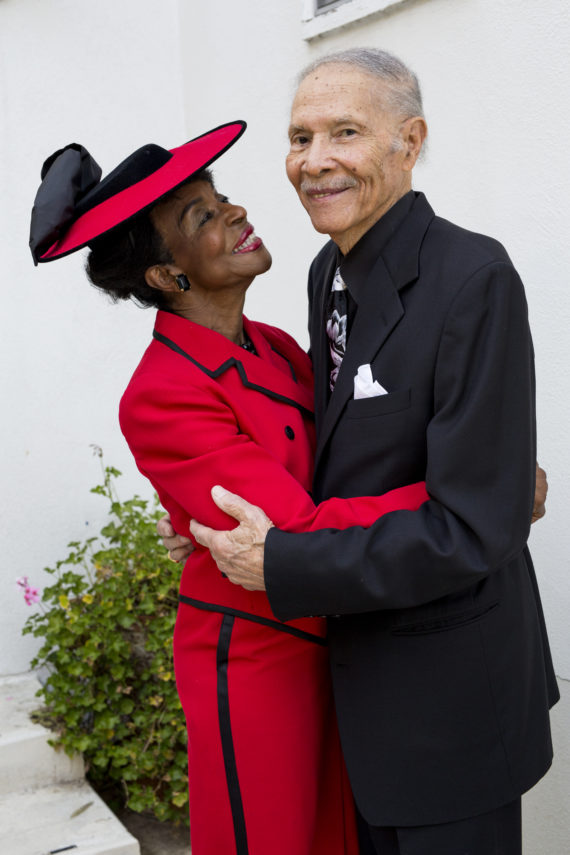 Growing up in Birmingham, Alabama, with my parents Ardenia and Paul Shine, we had more than our other economically poor neighbors. Living near the end of the poor white neighbors and the beginning of the black neighbors. Vacant lots separated the two housing developments, but not the people. The children played together, but attended separate schools, separate churches and other Jim Crow separations. In good weather, my father and other neighbors (black & white) had coffee on our back porch and steps while reading The Birmingham News.
         My father, a Naval World War II Veteran, educated on the G I Bill, and with the help of my mother, had a coal and ice company, television and radio repair and a café. My father, also, drove a truck for a cookie company. My father was stationed on a naval ship with Richard Nixon.My parent's philosophy was "You only have to share what you have." They always shared with others from free goods to helping others to go to college.
         At the age of eleven I got my first job working for my white neighbor, a single mother, after school. She "took in" washing, had a cow and sold fresh milk to the neighbors. At 50 cents per week, my weekly allowance and other added jobs, it took me a while to save $5.00 to open my first Bank account. I surprised my parents with my Bank book.My neighbor help to keep the surprise. She made sure I had a snack after school, did my chores, at my house and got my homework. Thurgood Marshall, (Later Supreme Court Justice) came to Birmingham, with a court fight, declared segregated housing was unlawful. The city officials condemned and demolished the white neighborhood housing for two or more city streets. My parents bought some of that property.
          After grade and high school, I attended Tuskegee University on a work scholarship. As a child, my desire was to be a ballerina. However, at Tuskegee my major was Nursing Education. As a student, I always participated in extra curricular activities, as choir, intramural basketball, champion softball catcher, etc. College added additional educational honors, as Miss Pershing Rifle, Miss R.O.T.C., Miss Honorary Sponsor, Miss Tuskegee and Who' Who in America. At the age of seventeen years old, I was introduced by a friend to the handsome student, Ben Oliver Kerr. We bonded right away and developed a friendship of trust and support. On April 4, 1955 Ben gave me a lovely diamond on my birthday. I gave him a puzzled look, because " my birthstone is the diamond", also. His response was " Take it for whatever you want it to be". I chose Engagement.-Delores Shine Kerr 82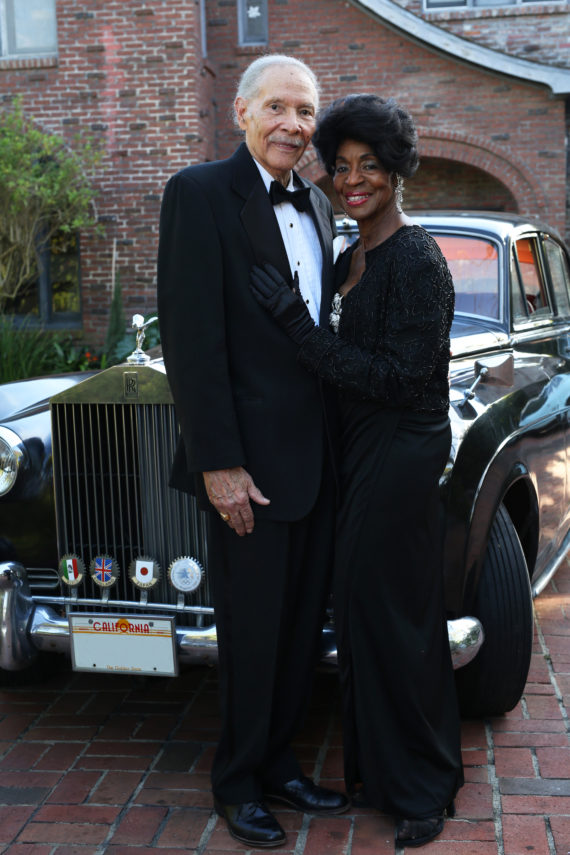 One of my problems was deprograming myself from the Korean War. It was not easy readjusting and convincing myself it was over for me. Sixty-six years later it still affects me occasionally.I worked in the Aerospace Industry for over 38 years with many great accomplishments and designs. One design being the Electrical Power Center for the DC10. I testified in litigation suites as an expert witness in engineering without ever losing a case. I also worked in aircraft accident investigation. Holding a Designated Engineering Representative position with The Federal Aviation Administration helped in many ways. In 1999, I retired as a manager in electrical engineering responsible for the design, installation and certification of electrical and electronic equipment.
         In 1957, leaving work my car would not go into reverse. I had to wait for the person parked in front of me to leave so I could get out. At home, I parked on the street at the end of the block so no one could park in front of me. We were saving Delores' salary to get a down payment to buy a house and living on my salary. I had no money to have the car fixed and Delores would not loan me a cent of the down payment money. For approximately two weeks special parking was required. 
         We are still married because when we got married I told Delores that she would have the honor and privilege of making the minor decisions and I would make the major decisions. After sixty years of marriage there have been no major decisions for me to make. We don't yell at each other unless the house is on fire. When she really gets mad at me, I go to the kitchen and wash dishes. There is no record in this country where a wife killed her husband while he was washing dishes. I always remember that my wife is our kid's mother.-Ben
         As a work student, one of my teachers, a single mother had a financial emergency. I loaned her money, not expecting "Pay back". After graduating, married to Ben with two talented children, Karen and Mark, a member of our church had a financial emergency. I loaned our mortgage money without Ben's knowledge. That night when I returned home, I had a letter from my teacher of years before with the "payback" money that I had loaned her. I Telephoned my church member and told her that she did not have to pay me. I am blessed with faith and trust. In 1957, my B. S. Degree in Nursing Education and my work experience was a "God send". Many nursing positions including emergency, head nurse, supervisor, psychiatry, etc. formed my hospital nursing career.Education and management included nursing instructor, educational consultant State of California and teacher advisor, etc.
         After 60 years of marriage, we have perfected the fight with a lot of respect and care for each other. The things we used to fight about we now laugh about. We put the other person first in many instances. – Delores
Wisdom
1.Identify and acknowledge blessings
2.Be heavy with compliments
3.Marry a person that you like just as they are
4.Don't date anyone you wouldn't marry
5.It is no longer I, it is we.
6.When two people are in business together always agree, one of them is not needed.
The post Advanced Love: Ben and Delores Kerr Celebrate 60 Years of Love and Marriage appeared first on Advanced Style.

SOURCE: Advanced Style – Read entire story here.