It's baking in New York so I figured I'd do a round up of the dresses that I'm seeing so far.
Mini floral print dress: I've noticed these in every print and colour combo but the common factor is the shape – they cinch at the waist and flair into a cropped skirt.  They feel retro and it's the type of style you can score at vintage shops.  Try Yumi Kim's Soho Mixer dress or the Kimchi Blue Scarlett dress (love this).
Floral rompers:   I'm seeing wide leg rompers as an alternative to short dresses.  I feel like their cut flows better than normal short dresses, don't ask me why.  They look refreshing amongst a sea of 'normal' dresses and it's a smart way to wear a short 'dress.'  I reckon that Asos does a bang on job in their selections.   Tip: Get one one size up so it skims!!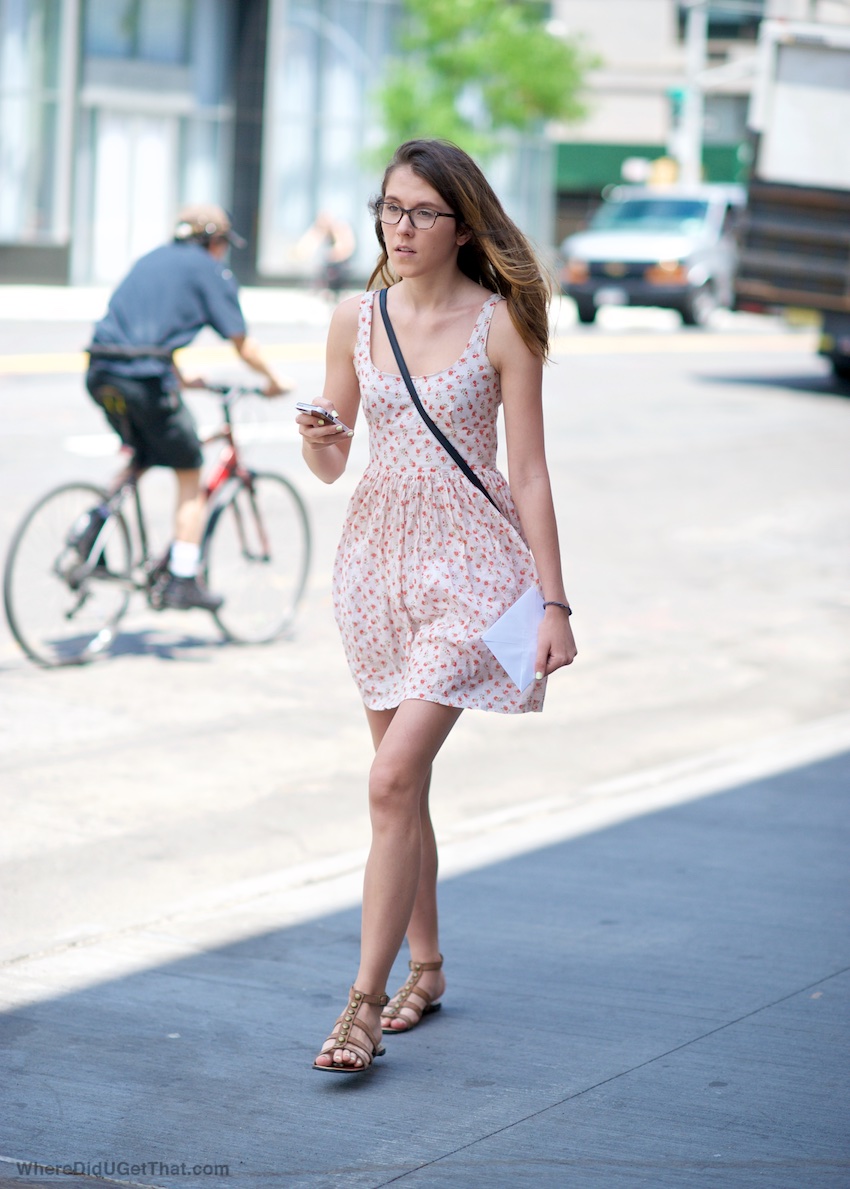 Short sun dresses:   Simple and classic they are worn sleeveless like the above or with cap sleeves.  I see them teamed with sandals or beat up ankle boots ie. Doc Martens – especially around the east village.  The Asos Amelia sun dress or Yumi Kim's Happy Hour dress both have a similar retro sun dress vibe like the above.
Click the below to see more around NYC!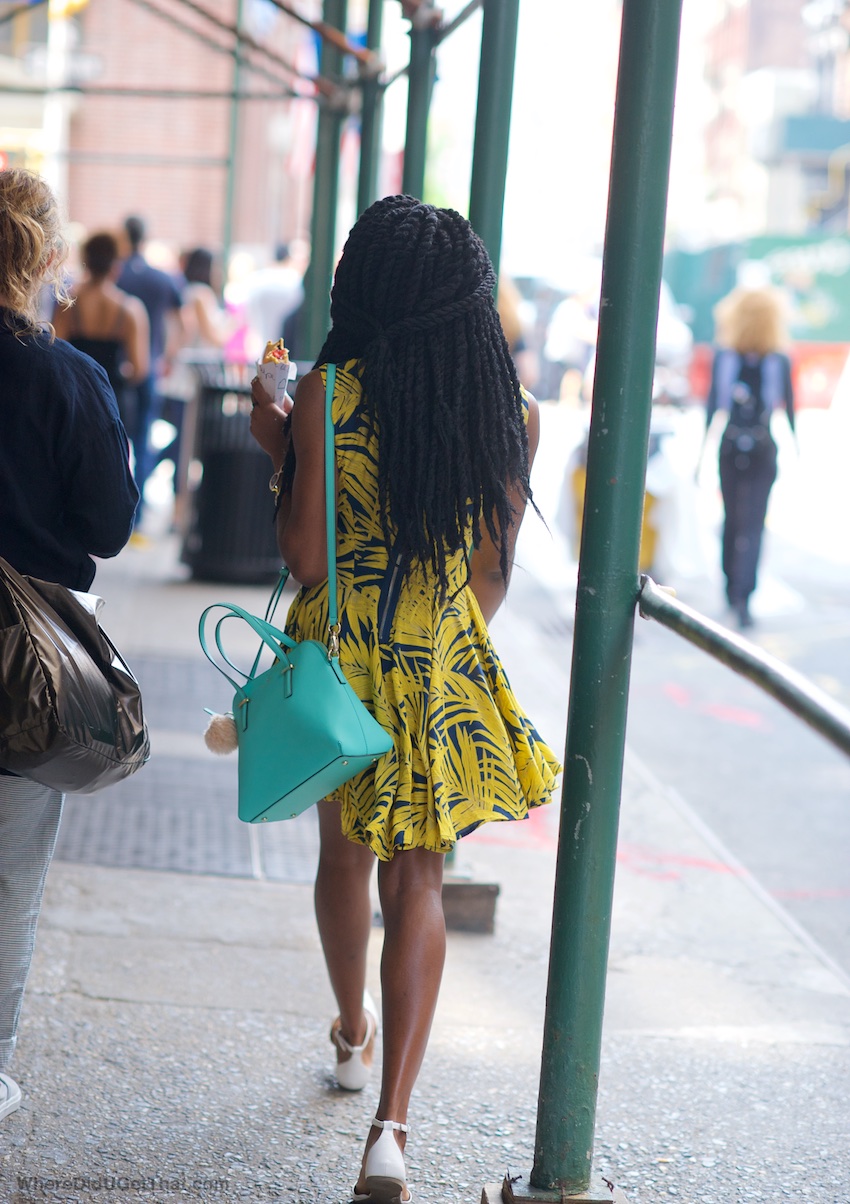 You can see the front of this H&M sun dress on the street style tab above.  Loved her bag clashed with the yellow which suits her perfectly.   The pointy skimmer flats are by Steve Madden and you can get them in different colors here (on sale).   I love Free People's drop waist dress in red if you want a similar feel but with a more forgiving waistline.   If you like sleeves, Topshop's Unique dress worn by Alexa Chung is an option.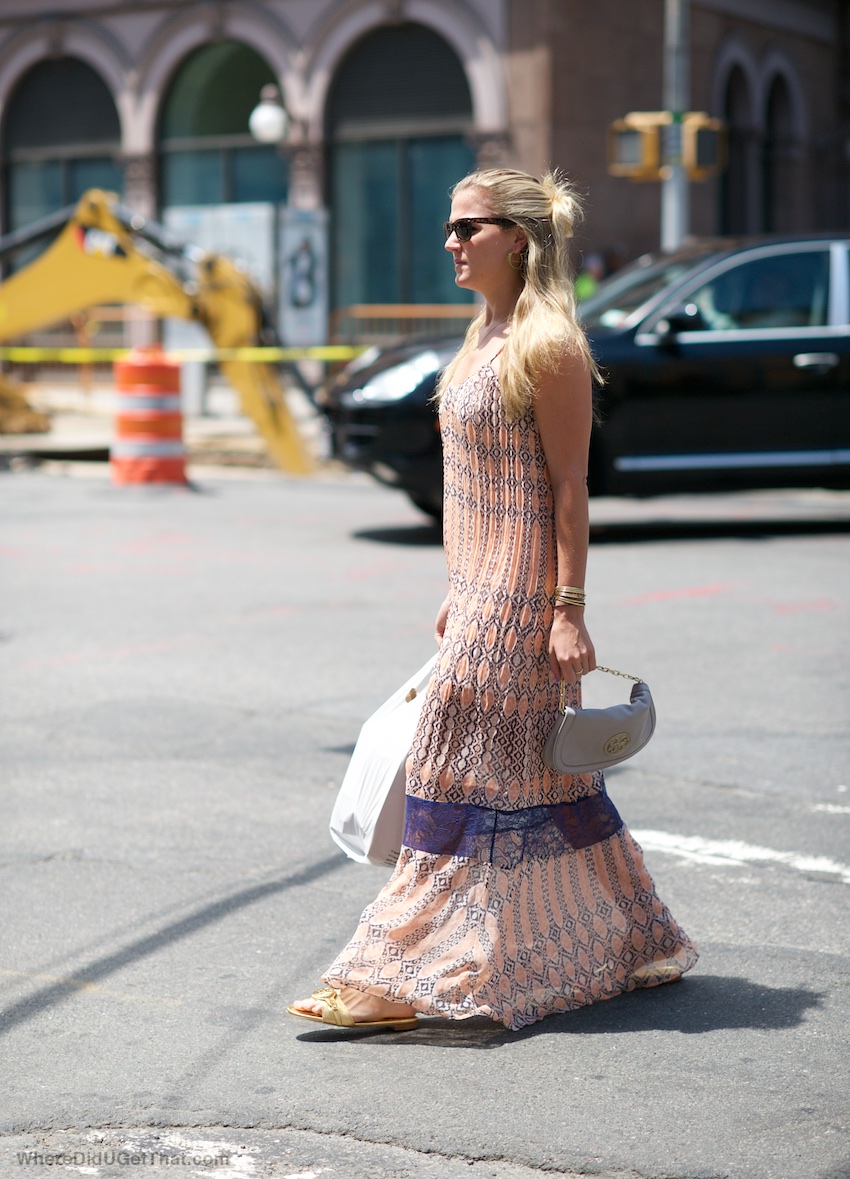 Maxi dresses:   The most striking dresses right now are the printed floor sweepers like the above which is by BCBG. The gold jewelry and sandals are chic and is a change from the usual brown leather sandals/beaded wood bracelet combinations.  I like Free People's After The Storm dress if you like sleeves like me or their Trailing Jade dress (on sale) for something more head turning.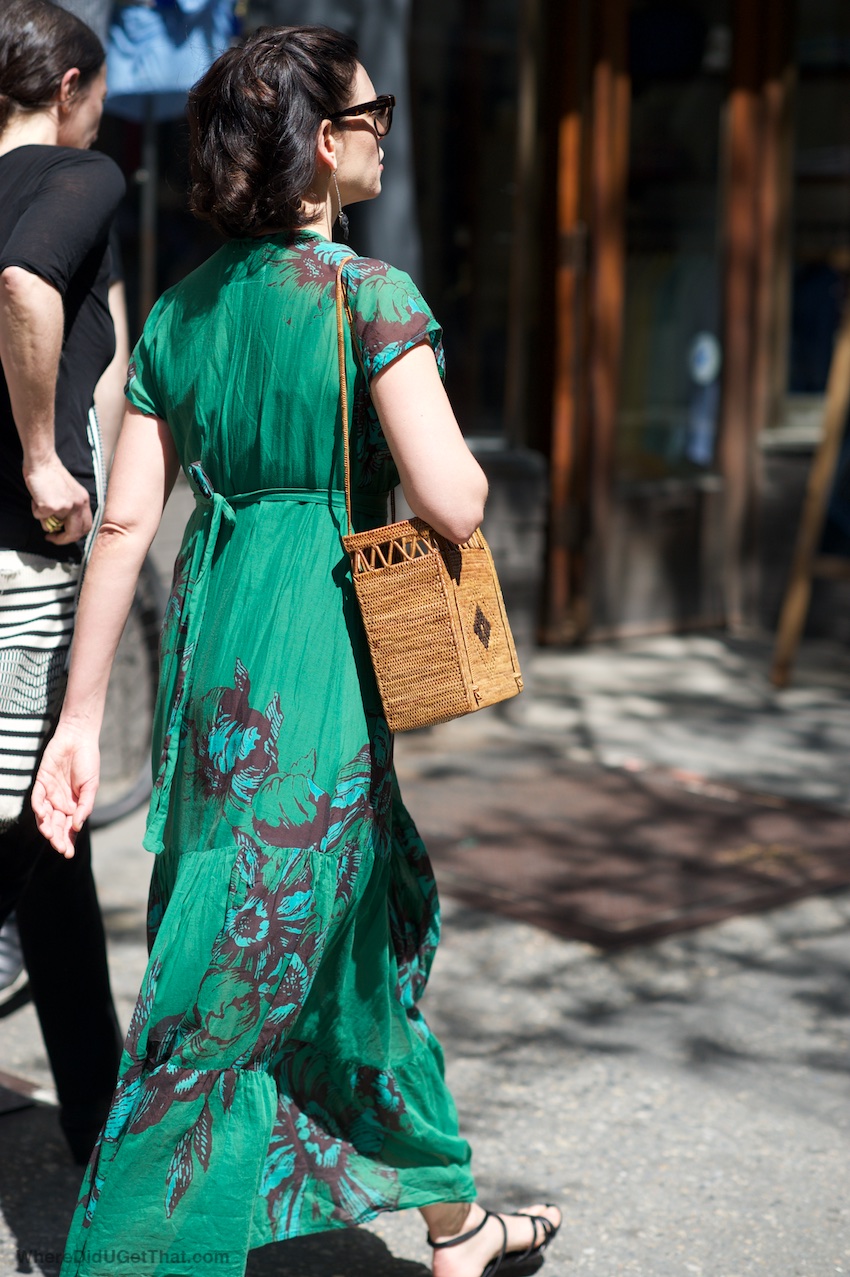 Most are pairing long printed dresses with leather totes or medium sized bags and I thought the above straw bag was a striking alternative.  JCrew's straw tote is a similar but more wearable take.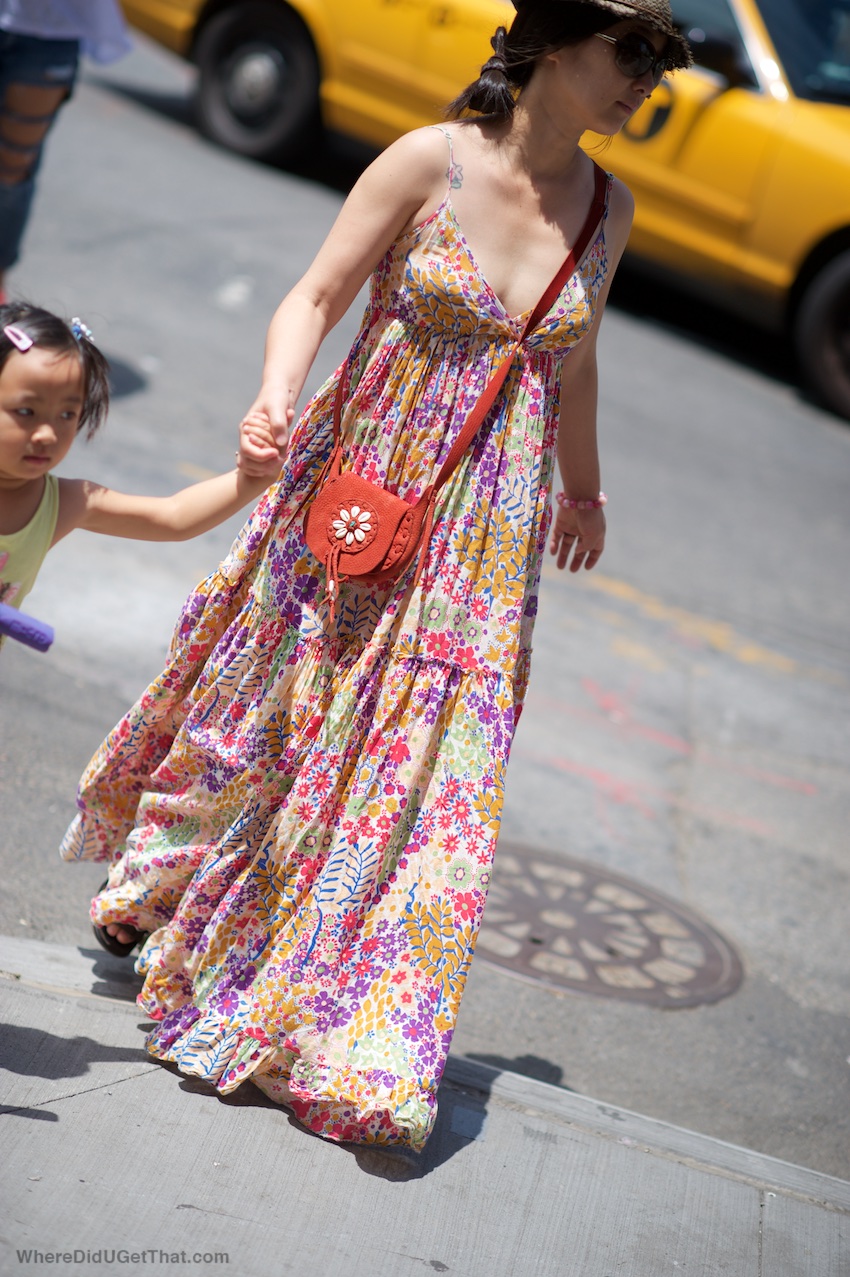 Another floor length printed dress.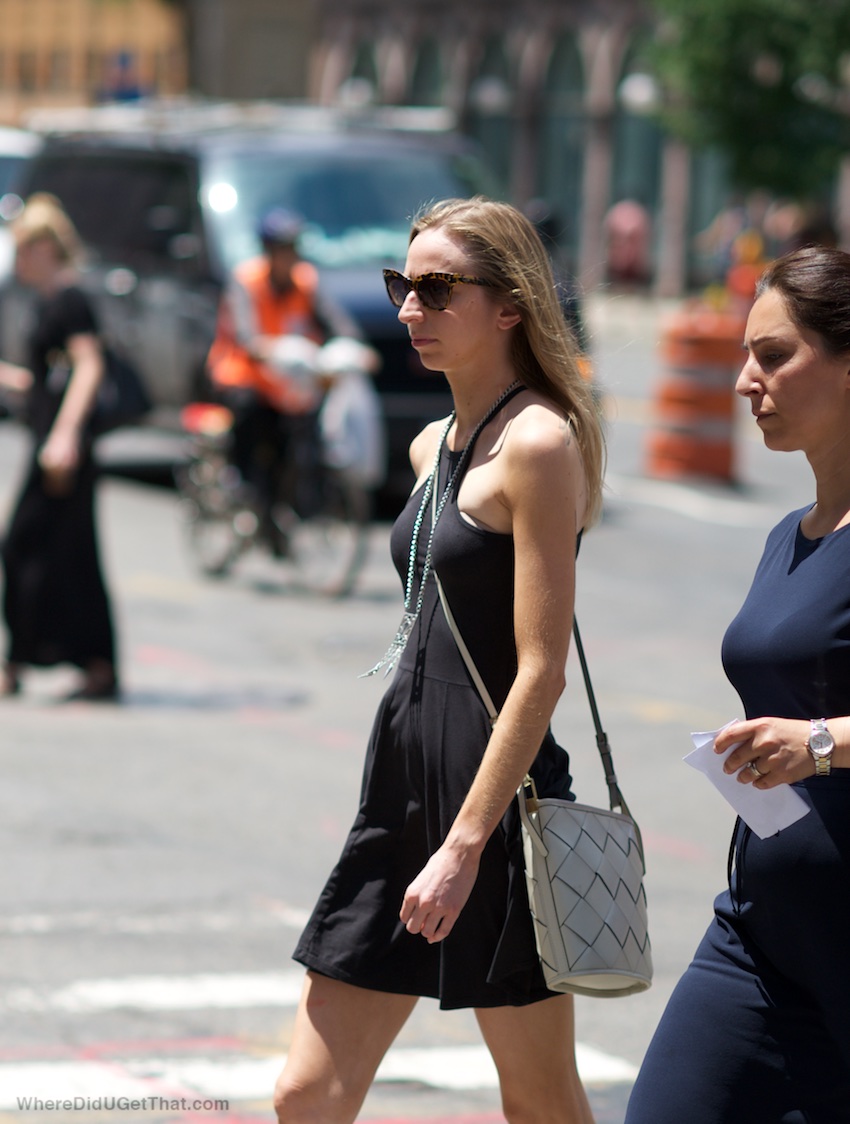 Little black dress:  It's a New York fave seen on a daily basis.  The styles worn are very simple and they look the most striking devoid of any jewelry.  The above is an exception worn with a long necklace which worked being her only piece.  Topshop's Boutique version is pretty simple as is Kimchi's Ballet dress in black.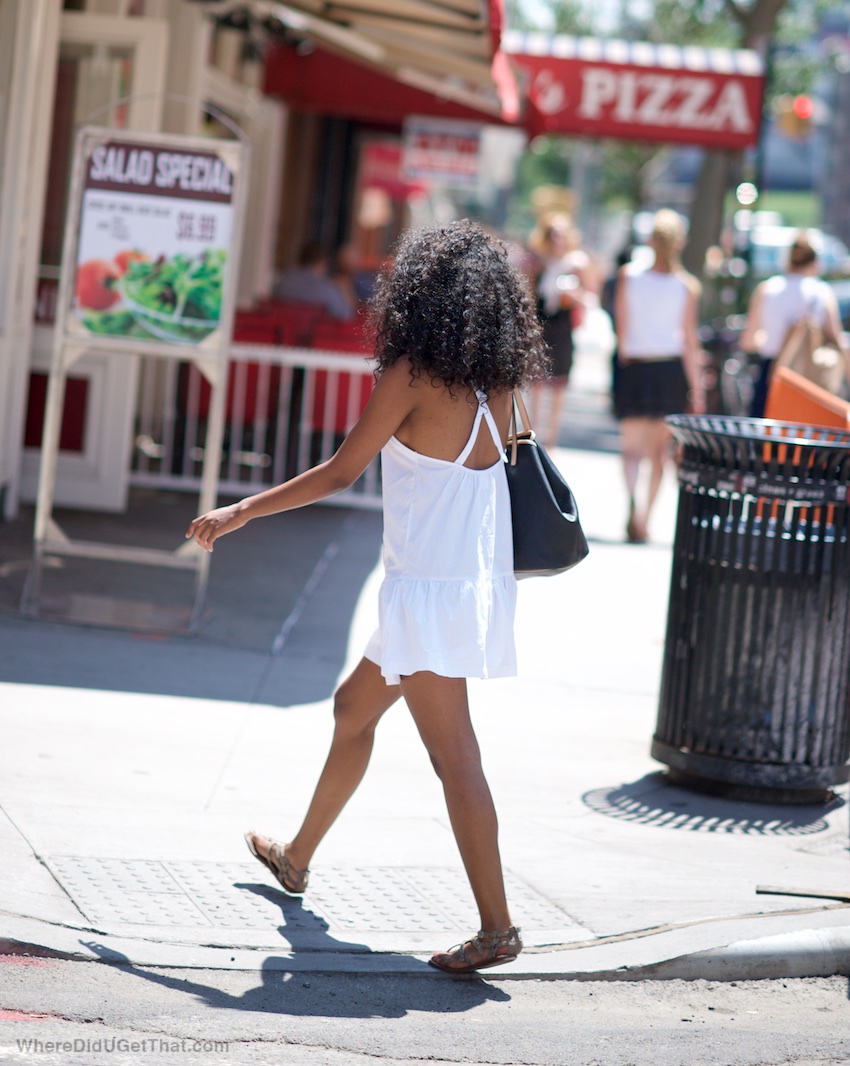 Short white cotton dresses: I'm seeing an increasing number of little white dresses and they look drop dead gorgeous against tanned skin.   Topshop's Flippy dress has a neckline that's striking in white or go with an off white take like Free People's Turn It On which would be killer with simple sandals and no jewelry.
This is a quick snap shot of the most popular dress styles that I'm seeing in New York.   Everyone teams their dresses with minimal or no jewelry.  You'll see most of the above aren't even wearing a watch which I too have stopped wearing when wearing dresses.  For some reason it clashes in the wrong way.
Despite the trend of trainers (sneakers) with everything, women here are wearing their dress with sandals – or maybe it's just the ones that I'm attracted to.
You can see the bags that women carry in New York in this older post!
SOURCE: Where Did U Get That – Read entire story here.